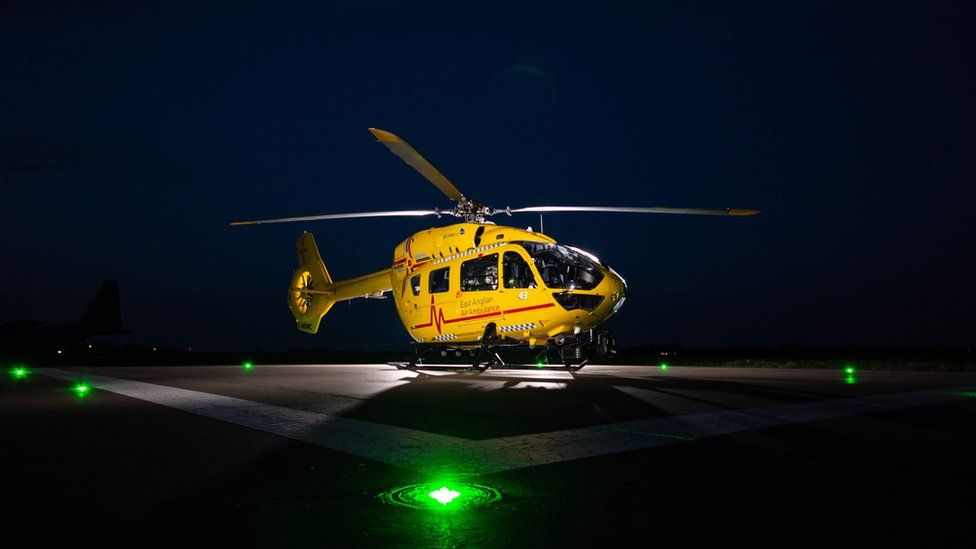 An air ambulance is to begin flying at night, making it the first in the East region to offer a 24-hour helicopter service every day of the week.The East Anglian Air Ambulance (EAAA) medical teams cover Bedfordshire, Cambridgeshire, Norfolk, and Suffolk.
It already offers night time emergency cover by road, but it will now take to the skies at night, as well.The charity estimates the new service will allow its medics to respond to about 600 more incidents each year.
"The gap between 01:30 and 07:00 where there has been no helicopter emergency medical service (HEMS) coverage in the region will now be closed," the EAAA said.
Operating out of Norwich and Cambridge, the EAAA has been providing overnight emergency cover with its rapid response vehicle since March 2020, but said the service would be "bolstered" by the addition of night flying.
"This is a huge moment for East Anglia and something that we, as a charity, have been working passionately towards for several years – to provide critical care to someone in a life-threatening or life-changing situation no matter what the time of day or night," Matthew Jones, the charity's chief executive officer, said.