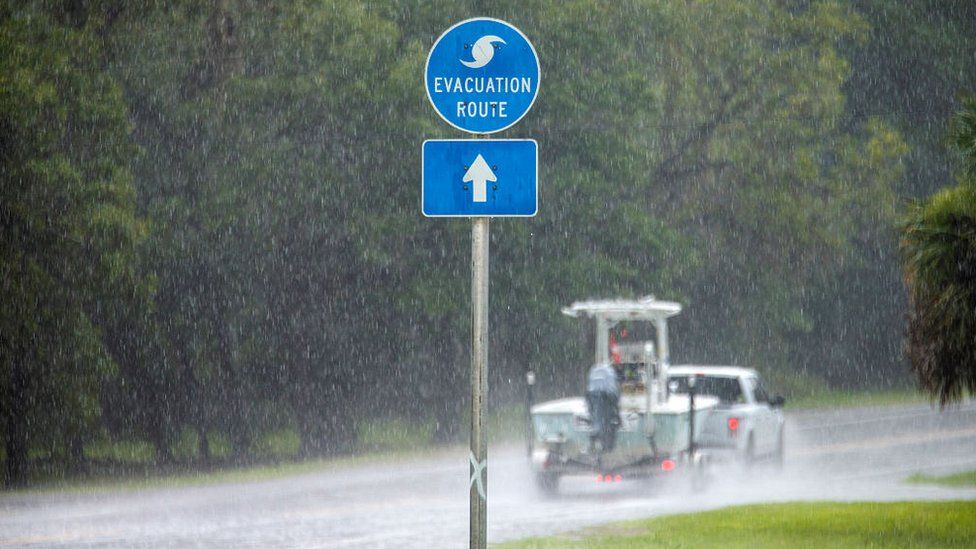 Tropical Storm Elsa, which has weakened from the first hurricane of the season, is poised to make landfall on the west coast of Florida on Wednesday.
A warning is in force for a 200-mile (300km) stretch of the Gulf Coast north of Tampa Bay.
The storm battered Cuba on Monday with mudslides and floods.
Earlier it tore across the Dominican Republic and St Lucia, killing at least three people and damaging hundreds of buildings.
After passing across Florida, Elsa is expected to hit the US states of Georgia and South Carolina.
"Elsa is forecast to make landfall along the north Florida Gulf coast by late Wednesday morning and then move across the south-eastern United States through Thursday," the National Hurricane Center (NHC) said in an update.
Should the hurricane season begin earlier?
'Better warning system' needed for extreme weather
Hurricanes: A guide to the world's deadliest storms
At 02:00 local time (06:00 GMT), the storm was about 60 miles west of Tampa and moving slowly north with winds of 70mph (115km/h), the NHC said. Elsa became the first hurricane of the Atlantic season on Friday before weakening to a tropical storm. After leaving Cuba, it briefly regained hurricane force over the warm waters of the Gulf of Mexico, but was then downgraded again as it approached the Florida coast.