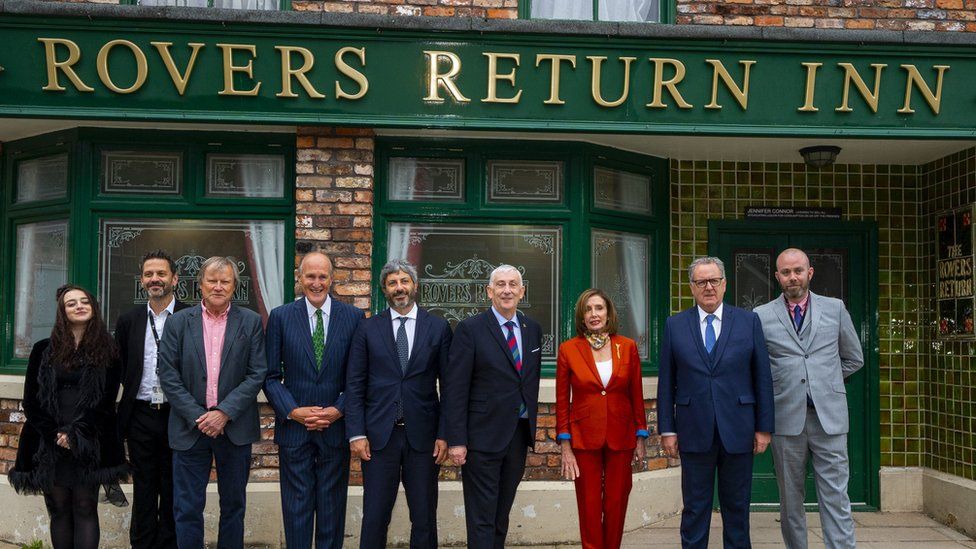 The Speaker of the House of Commons says TV shows can help counter hate as he welcomed foreign dignitaries to the Coronation Street studios.
Sir Lindsay Hoyle showed parliamentary presiding officers from some of the world's richest nations around the ITV set after a G7 summit in Lancashire.
Nancy Pelosi, speaker of the US House of Representatives, was among those hearing about the soap's impact.
The show's producer Iain MacLeod said their visit was an "incredible honour".
Mollie Gallagher, who recently won a National Television Award, spoke about her character's storyline, which had been based on the real-life case of student Sophie Lancaster.
The 20-year-old was fatally kicked while she was dressed as a Goth in Bacup, Lancashire in 2007.
Mr MacLeod said: "I think what our show does in terms of democracy is set the terrain, I think it encourages empathy.
"It encourages people to look at people that aren't like them and put themselves in their shoes.
"And I think, hopefully, that encourages a more empathetic and a kinder dialogue, politically speaking."