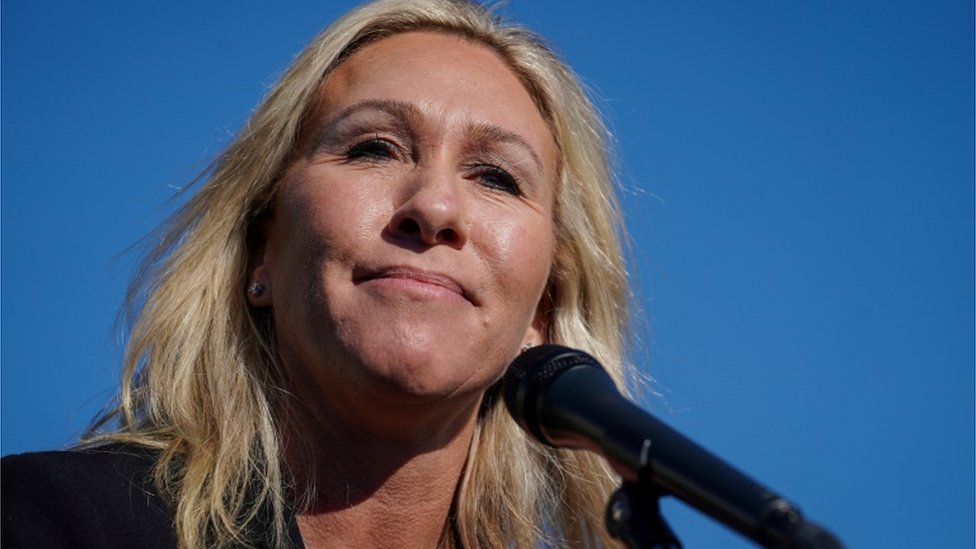 US House of Representatives Speaker Nancy Pelosi has called for an ethics inquiry into a Republican for a "verbal assault" on another lawmaker.
In the halls of Congress, Marjorie Taylor Greene reportedly accused New York's Alexandria Ocasio-Cortez of supporting "terrorist" groups.
Ms Ocasio-Cortez later said her antagonist was the kind of person she used to throw out of bars.
Both lawmakers are lightning rods for criticism on the right and left.
Mrs Greene last month challenged Ms Ocasio-Cortez, known as AOC, to debate the latter's proposed climate legislation, the Green New Deal.
US congresswoman who supported QAnon loses key post
According to Washington Post reporters that witnessed Wednesday's confrontation, Mrs Greene approached AOC in the House chamber, saying "Hey Alexandria" twice, as the other woman ignored her and continued walking away.
The Georgia congresswoman, known as MTG, then reportedly raised her voice to call antifa, a loosely knit group of far-left activists, and Black Lives Matter "terrorist" groups.