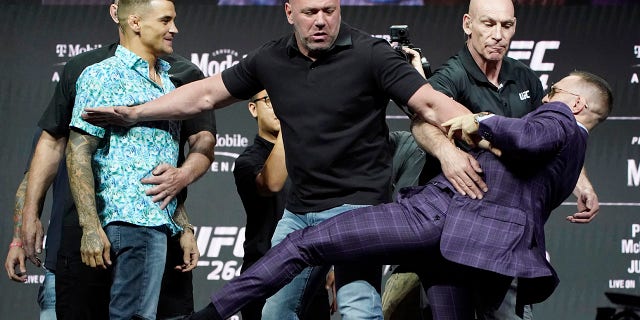 Conor McGregor did his best to ratchet up the hype for his upcoming UFC 264 fight against Dustin Poirier on Thursday night.
McGregor and Poirier attended the pre-fight press conference ahead of their trilogy fight set for Saturday night at the T-Mobile Arena in Las Vegas. McGregor won the first bout between the two in 2014 and then Poirier got the better of him in January.
The press conference ended with McGregor attempting to get a kick in on Poirier. He had to be escorted back off the stage by security. Poirier appeared to be undeterred.
The former UFC champion brought his usual brashness to the event. He vowed to pick up a win Saturday.
"He's Buster Douglas. It was a fluke win, and I'm going to correct it on Saturday night," he said, referring to the former heavyweight boxing champion who defeated Mike Tyson in 1990 in what is widely regarded as one of the greatest upsets in sports history.
Poirier didn't seem phased by the talk and insults coming from McGregor. "Na, straight business, man," Poirier said when asked whether the talk was getting personal.