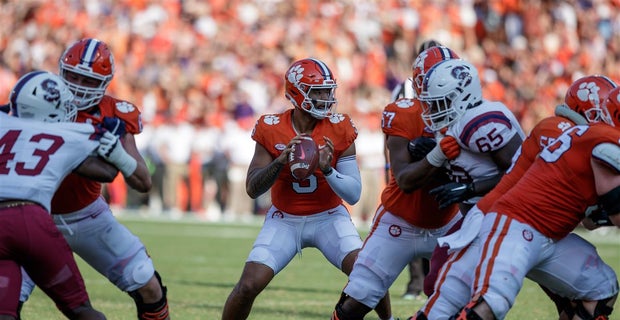 We have finished the first lap of college football season and entering the late-September grind, takeaways are coming into focus following the release of Sunday's Week 4 AP Top 25 Poll. The elite-tier remained unchanged, however, a few teams jockeying for positioning behind Alabama and Georgia made statements on Saturday that were not necessarily reflected in the latest rankings.
Who is overrated — and underrated — after the first quarter of the 2021 campaign?
The University of Michigan, unranked at the start of the season, is ascending after its 3-0 start and erupted for 63 points during Saturday's win over Northern Illinois. There's a noticeable toughness with this year's team, but Jim Harbaugh wants to keep the excitement down a notch.
"Don't wanna fall in love with your stuff. Because you can get better," Harbaugh said. "It's kind of a race to see how good you can get. A lot of great things are gonna happen when your players are playing as hard as they are. Good things happen. Energy, great energy. The ball finds it. Whether that's a defensive player or offensive player, playing as hard as you can as fast as you can, never giving up, all those things I see in our team and the way that they're playing. And we'll take that into the Big Ten season and what we've done to this point is good, but now it really starts counting."