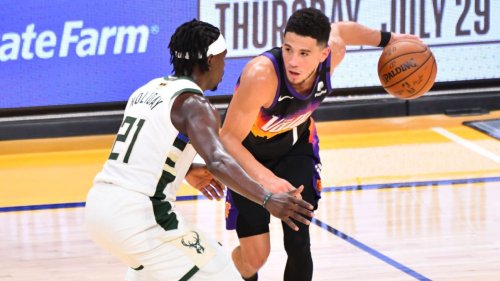 As Suns star Devin Booker drove into the lane inside the final 30 seconds of Game 5 of the NBA Finals on Saturday night, it felt like it was about to be a storybook moment. The Suns were trailing by one, and Booker — who had already hit 40 points for a second straight game — looked ready to push Phoenix back into the lead.
But then, out of nowhere, Jrue Holiday appeared.
"I was just trying to score the ball," Booker said. "[Holiday] was behind me. I turned and he was right there." And, as Booker spun back toward the middle of the court, Holiday got his hands on the ball, popped it up in the air and caught it. "I guess I was just in the right place at the right time," Holiday said.
Then, after taking four dribbles and moving into the frontcourt, he lofted a picture-perfect alley-oop pass to Giannis Antetokounmpo at the rim for an emphatic dunk plus a foul.