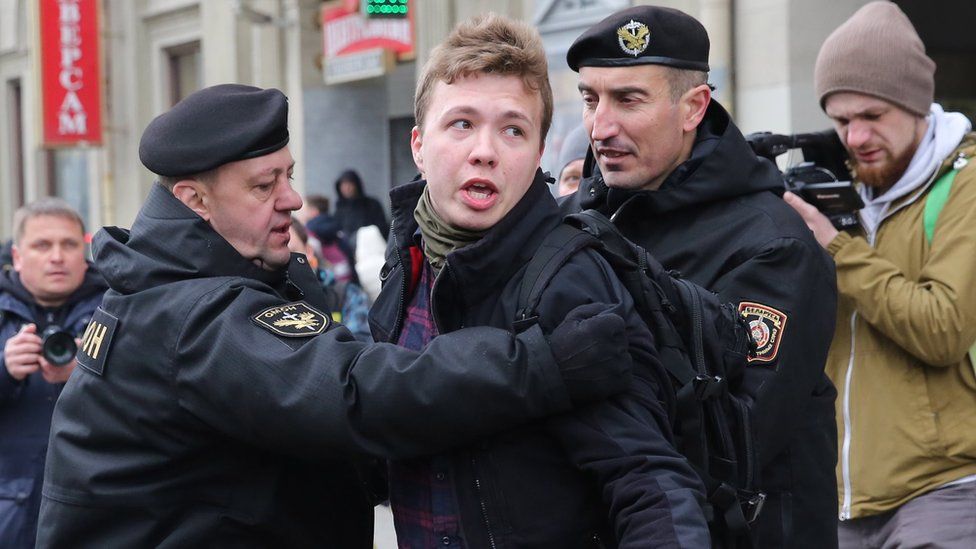 Western countries have condemned Belarus for diverting a plane flying over its territory to arrest a Belarusian opposition journalist.
EU leaders are due to discuss their response to what the union's executive called a "hijacking" and the US state department said was "a shocking act".
Belarus scrambled a fighter jet to force the plane – bound for Lithuania – to land, claiming a bomb threat.
Police came and took Roman Protasevich away when passengers disembarked.
The 26-year-old was aboard the Ryanair plane, which was flying from the Greek capital, Athens. The aircraft was due to land in Vilnius, but was still in Belarusian airspace when it was told to divert it to their own capital, Minsk.
Witnesses said the activist was "super-scared" and told fellow passengers he would face the death penalty – Belarus is the only European country that still executes prisoners.
State media in Belarus said President Alexander Lukashenko had personally given the order for the move. The plane landed in Vilnius more than six hours after its scheduled arrival.