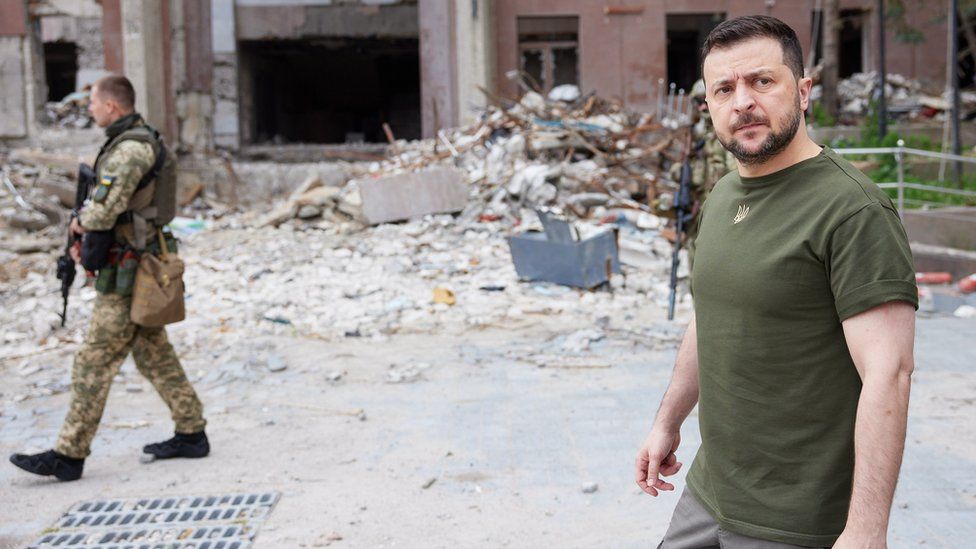 The president of Ukraine has made a rare trip outside of the capital Kyiv to visit the southern cities of Mykolaiv and Odesa.
Volodymyr Zelensky inspected damaged buildings and met soldiers, officials and health workers, his office said.Both cities are key targets for Russian forces trying to secure the Black Sea coast.
For weeks, the Russian offensive has been focused on seizing the Donbas region in eastern of Ukraine.
The Ukrainian president has met several Western leaders who have travelled to the capital, Kyiv, almost regularly.But he has also defied Russian troops by going to areas where fighting has been raging.
During his last trip, Mr Zelensky told Ukrainian troops on the front line, "Take care of Ukraine – the only thing we have", his office said.Russia invaded Ukraine on 24 February, saying it aimed to "de-Nazify" and "demilitarise" its former Soviet neighbour.
In the ferocious war which has followed, the UN says that more than 4,500 civilians have been killed and nearly 5,600 have been injured. Thousands of combatants have also been killed or injured on both sides.