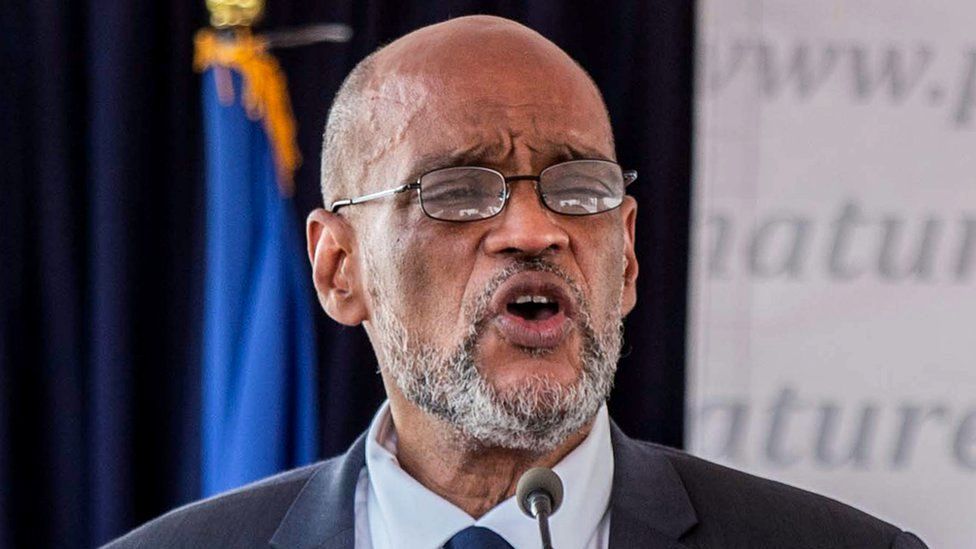 Haiti's Prime Minister Ariel Henry has been banned from leaving the country amid an investigation into his alleged involvement in the assassination of President Jovenel Moïse.
A prosecutor is seeking charges against Mr Henry, who has been asked to explain his links with a suspect in the killing, Joseph Felix Badio.
Records show the two men had multiple phone calls just hours after the assassination, prosecutors say.
Mr Moïse was killed at home on 7 July.
He was shot dead after gunmen stormed his private residence in a suburb of the capital, Port-au-Prince. His death triggered a political crisis which was exacerbated when a huge earthquake struck the south of Haiti a month ago.
What we know so far about Haiti president's assassination
Prosecutors have said records obtained from phone operator Digicel have confirmed that Mr Badio – a justice ministry official accused of planning the assassination – and Mr Henry spoke twice shortly after Mr Moïse's killing.
Geolocation data also showed that Mr Badio, who disappeared after the murder and is currently being sought by police, was speaking from the scene of the crime. He has not publicly commented on these claims.