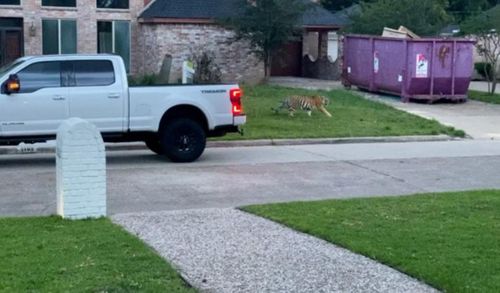 A Bengal tiger named India hasn't been located three days after it was spotted in a Houston neighbourhood and taken away by a man accused of murder.
"I am extremely worried about what happens with this tiger and the people around it," Carole Baskin, founder of Big Cat Rescue and star of the Netflix series, "Tiger King" said.
"This has become commonplace in Texas," she told CNN.
Owning a tiger is a violation of Houston law, but it is legal under Texas state law with certain restrictions.
When Jose Antonio Ramos discovered the tiger Sunday on his front yard, he thought it was part of a TV commercial – with ample security and safety measures nearby – but it wasn't.
Mr Ramos gingerly stepped outside "just to really make sure that what I was seeing was accurate, and basically to take a snapshot of it and alert authorities."
His hands trembled as he shot photos and video. The tiger "was making full eye contact with me," Mr Ramos had earlier told CNN.