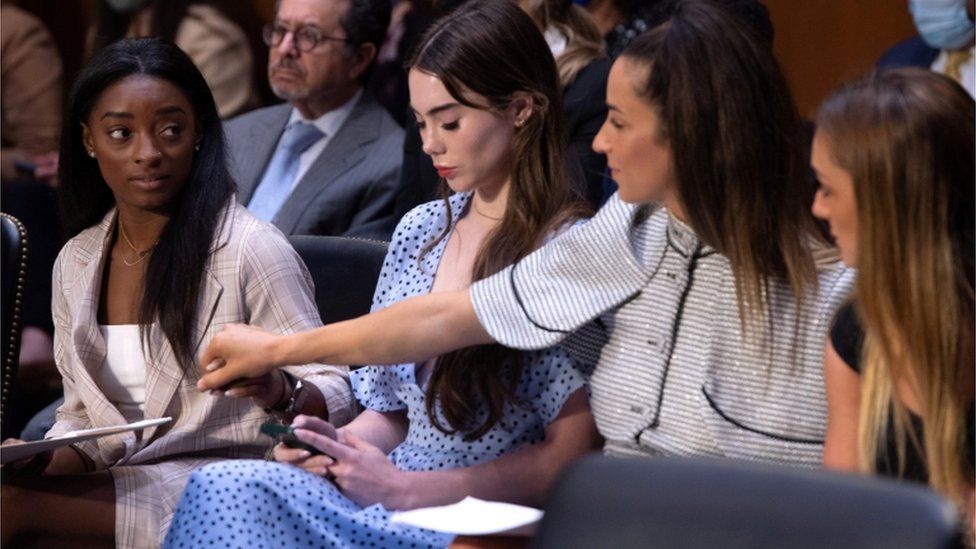 Elite US gymnast Simone Biles has testified before the Senate about abuse she suffered at the hands of disgraced former team doctor, Larry Nassar.
Former teammates Aly Raisman and McKayla Maroney also appeared before the committee, along with FBI Director Christopher Wray.
The committee is examining shortcomings in the FBI's investigation into Nassar, later convicted of sexually abusing girls.
He is serving a life sentence in jail.
"I blame Larry Nasser, and I also blame an entire system that enabled and perpetrated [sic] his abuse," said Ms Biles, the most decorated Olympic gymnast of all-time.
"If you allow a predator to harm children, the consequences will be swift and severe," she added.
SCATHING REPORT: FBI failed to investigate USA Gymnastics abuser
VOICES: What it was like to face 'monster' doctor in court
Gymnast Maggie Nichols – the first victim to report her abuse to USA Gymnastics – also testified.
What did the women say?
In emotional testimony on Wednesday, the four women told the Senate Judiciary Committee they had "suffered and continue to suffer" from the abuse they experienced and its bungled handling.
Four-time Olympic gold medallist Simone Biles – one of the most famous figures in world sports – called for the agents involved to be federally prosecuted.