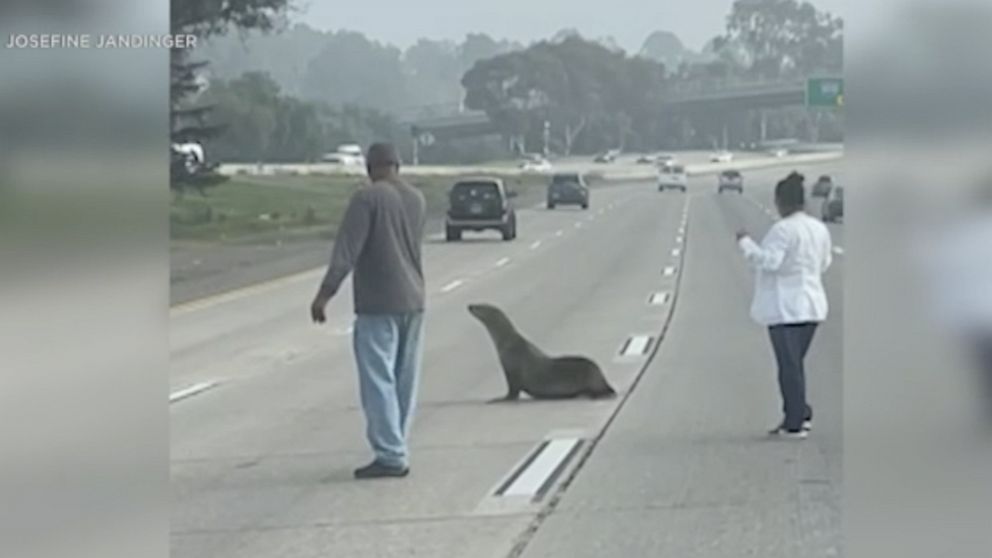 A sea lion managed to make its way onto a busy California highway Friday, before animal rescuers, first responders and a couple of good Samaritans were able to help get the stranded marine mammal to safety.
Drivers came across the unusual sight Friday morning, which halted traffic on a freeway east of downtown San Diego several miles from the bay, where the animals are commonly found.
Josefine Jandinger told ABC San Diego affiliate KGTV she was driving east on State Route 94, just west of Interstate 805, when she saw two "amazing humans" stop their car, get out and direct traffic around the animal as it crossed the freeway.
"I couldn't believe what I was seeing," said Jandinger, who captured a video of the man and woman aiding the sea lion. "It was the craziest thing I've ever seen."
California Highway Patrol reported that the animal crossed four lanes on the 94 East highway before stopping in the median. Officers ran several traffic breaks to prevent the sea lion from getting hit by any cars before animal rescuers could arrive.